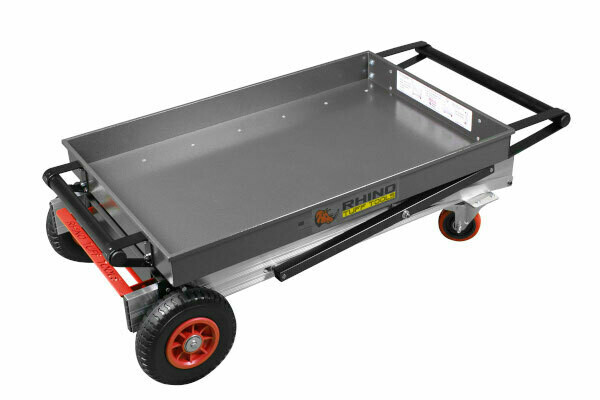 Collapsible Cart (Indoor Model)
CC-002
Product Details
Our Collapsible Cart (Indoor Model) is the original collapsible utility cart by Rhino Tuff Tools.
This unique Collapsible Cart weighs less than 50 pounds and does not require the removal of parts to extend or collapse. Small enough to fit in the trunk of a small car and easy to extend – in less than 10 seconds!

Warranty: All Carts made by Rhino Tuff Tools are covered by a six month warranty on all parts against defects in workmanship and materials. Built in the USA!

Shipping: We have collapsible carts in stock and typically ship via UPS Ground within 24 hours of receiving payment. A $95.00 per cart flat rate shipping cost (for the 48 contiguous United States) will be added to the price shown. For all other states and territories, including Canada and International, please click here to use eBay.

You may also call 800-308-8009 to place your order.

This model is designed for indoor use with softer casters that roll almost silently in quiet environments like hospitals, schools, hotels and many other places. Do you need a Collapsible Cart for outdoor use? We have it! Click here to look for the Outdoor Model in our store.

Click the video below to see our collapsible cart extend in less than 10 seconds and collapse in less than 5 seconds!
Our metal cart has a smooth operating design for extending and collapsing without any removable parts. It is extremely stable over rough terrain and as a work platform. The 8″ flat-free wheels ensure you will never have a low or flat tire to slow down your work day.
Other collapsible carts in the market are unusable and cumbersome in the collapsed position. Often, the user has to to carry these other carts when collapsed. The Collapsible Utility Cart by Rhino Tuff Tools excels as both a small hand truck in the collapsed position, and thanks to double-locking casters, provides excellent stability when used as a work platform.
In the collapsed position, our cart is a sturdy hand truck that is easily wheeled to its next destination. No other cart is as versatile over all types of terrain. Our heavy-duty construction holds up to 400 pounds of your work items to save time and reduce body strain. Easy to fold – easy to collapse – in less than 5 seconds!

Our collapsible utility cart comes with powder coated aluminum trays that are scratch resistant and easy to clean. Every part is completely weatherproof for use anywhere!

Overall Dimensions: 44 3/8″ long, 22 5/8″ wide, 12 3/4″ deep (height)
Top Tray Inside Dimensions: 33″ long, 21″ wide, 3″ deep (height)
Bottom Tray Usable Dimensions: 28 3/4″ long, 15 1/2″ wide, 3 1/4″ deep (height)
Very portable. Even fits in most car trunks! Small footprint of storage needed. Stand on end and hang on a wall or tuck into corner when not in use.

This collapsible cart is perfect for any organization or industry that has space constraints and/or need for mobility. Our collapsible tool cart is currently in use and proven invaluable at:
Military Bases
Multiple Federal Agencies
Mobile Medical Personnel
Mobile Mechanics and Caterers
Maritime Industries
Equipment Maintenance Facilities
Tradesmen: Electricians, Plumbers, Landscapers, HVAC Techs, etc.
Click the video below to see our collapsible cart at work!

Save this product for later
Share this: